How Often Should You Rotate Your Tires?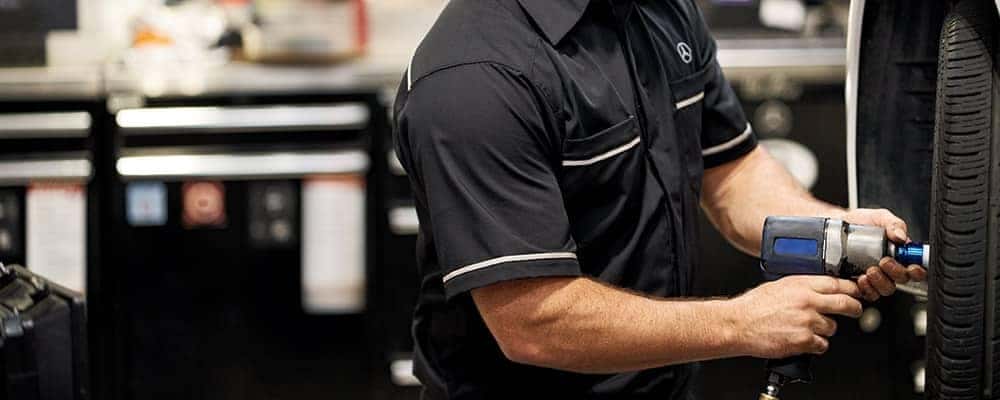 As a general rule of thumb, tires should be rotated sometime between the 5,000 to 7,500 mile interval. Sticking to this ground rule is a good baseline, but remember to always check your owner's manual for exact figures for your vehicle. Still have questions about when to rotate tires? The team at Mercedes-Benz of Charleston, your Huntington-area trusted service center, have crafted this handy guide for you. Let's explore when, and how, to rotate your tires.
FWD and RWD Vehicle Tire Rotations
The difference between front-wheel and rear-wheel drive vehicles is simply where power from the engine is sent. Basically, this means a front-wheel drive car has the power sent to the front wheels, whereas a rear-wheel drive car has it sent to the back wheels. In turn, this means the set of tires that get the majority of the engine power tend to wear faster than the others. If you drive a FWD or RWD vehicle on your Bridgeport drives, remember these tire rotation tips:
Again, stick to the 5,000 to 7,500 mile mark for tire rotations of FWD and RWD cars. But remember, double check your owner's manual for exact numbers.
Doing the tire rotation yourself? On a FWD car, don't forget to flip sides when moving the rear tires. For example, the rear left tire will go on the front right. You can move the front tires straight backwards.
For a RWD car, the process is simply reversed. Flip sides when moving the front set of tires back, but move the rear tires straight ahead when moving them forward.
Your driving habits, and the types of surfaces you tend to drive on, will have an impact on how often you need to rotate tires. If you have questions about a proper maintenance schedule for your driving habits, speak with the service experts at Mercedes-Benz of Charleston.
Tire Rotation Tips for AWD Vehicles
Wondering how many miles to rotate tires on an AWD car? Because these vehicles operate differently than FWD and RWD, the mileage intervals are slightly different. Each tire on an AWD car will wear at different speeds. Experts tend to set the interval between 3,000 and 5,000 miles. As with any RWD or FWD vehicle, though, remember to always consult your owner's manual to be sure. Not sure when you last rotated your tires? No worries. Schedule service at Mercedes-Benz of Charleston. Our technicians will perform a thorough inspection to determine if you need a tire rotation. Once the tread variance exceeds 2/32 of an inch, it's usually time for a tire rotation.
Why Rotate Tires?
Rotating your tires, for starters, extends the life of your tires. But it can also give you a handful of additional benefits, including:
Helping to lower road noise
Relieve unnecessary stress on the drivetrain
Better traction on slippery roads
Having regular tire rotations as part of your maintenance plan means you're better prepared for inclement weather in Charleston. Keep in mind that even though proper tire care will extend the life of your tires, it won't keep them alive forever. If you ever need a replacement set, our tire center is here to help!
Get Your Tire Service From Mercedes-Benz of Charleston
Contact us today for any information about tire care, including instructions on how to rotate your tires. We have an expertly trained staff of technicians who can help answer any question for you, and get your car back on the road in no time.
Service Specials at Mercedes-Benz of Charleston
More Service Tips from Mercedes-Benz of Charleston
When you buy a new Mercedes-Benz, you'll have peace of mind, as your new vehicle will be protected under the Mercedes-Benz New Vehicle Warranty. This warranty covers material and craftsmanship defects for 4 years or 50,000 miles, whichever comes first. When this warranty ends, you can opt for the extended warranty for additional coverage. Learn…

Keeping your car in excellent shape for as long as you own it requires regular servicing. By following the car maintenance schedule below, your car will stay in prime condition for many years to come. Learn more about what services are needed at different mile and time intervals, then visit Mercedes-Benz of Charleston's service center for an…

As a general rule of thumb, tires should be rotated sometime between the 5,000 to 7,500 mile interval. Sticking to this ground rule is a good baseline, but remember to always check your owner's manual for exact figures for your vehicle. Still have questions about when to rotate tires? The team at Mercedes-Benz of Charleston, your Huntington-area…