What is Mercedes-Benz ATTENTION ASSIST®?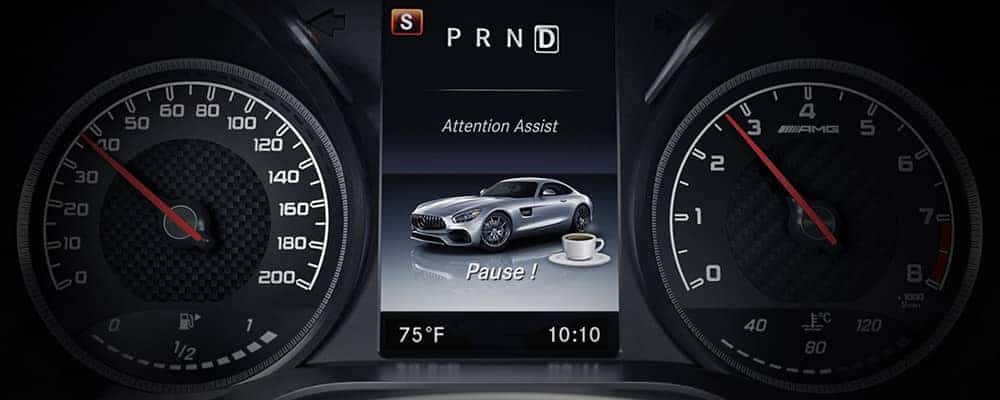 Whether you're off on an extended road trip or simply driving home to Huntington after a long work day, ATTENTION ASSIST® works to keep you safe. Learn how Mercedes-Benz ATTENTION ASSIST® works by reading on, and make sure to contact us today to schedule a test drive to experience all the Mercedes-Benz technology features for yourself at our dealership in Charleston.
How Does Mercedes-Benz ATTENTION ASSIST® Work?
Mercedes-Benz is once again leading the charge with an industry-first feature through ATTENTION ASSIST®. By using a precise algorithm and advanced sensor technology, the system can detect when drivers are becoming to drowsy or fatigued to be driving. The system works as follows:
Over 70 parameters are used during the initial minutes of the drive, helping to assess your individual driving style.
Throughout your commute, ATTENTION ASSIST® will monitor for specific corrections in steering that often indicate the beginning signs of driver fatigue.
The system will then factor in external factors, such as road conditions, crosswinds, and how you are interacting with your vehicle's controls, buttons, and more.
If the system assesses all these factors and concludes that you are experiencing drowsiness or driver fatigue, it will sound an alert and suggest stopping for a break.
Which Mercedes-Benz Vehicles Offer ATTENTION ASSIST®?
Most new Mercedes-Benz models, including electric and plug-in hybrid options, offer ATTENTION ASSIST®, along with most other active safety features offered by Mercedes-Benz. Here are the models that Bridgeport drivers can find ATTENTION ASSIST® on:
Cars: C-Class, E-Class, S-Class, CLA, and CLS
SUVs: GLA, GLC, GLE, GLS, and G-Class
Roadsters: SLC, SL, and Mercedes-AMG® GT
Commercial Vans: Standard on all Metris models
Explore More Mercedes-Benz Safety Features at Mercedes-Benz of Charleston
There are tons of great safety features available through Mercedes-Benz, such as, MAGIC BODY CONTROL®, PRESAFE® , and COMAND® infotainment display systems. Visit our dealership near Beckley to find a Mercedes-Benz model that has all the safety features you need.
More About Mercedes-Benz Technology
Mercedes-Benz vehicles are always at the forefront of advanced automotive technology. From Mercedes-Benz PRESAFE® to Mercedes-Benz BlueTEC®, there are loads of premiere technology and safety features to talk about. One of the most groundbreaking features is Mercedes-Benz MAGIC BODY CONTROL®. This advanced system works to read the road in front of you and using that…

You don't have to select a hybrid model to enjoy superior fuel efficiency in your Mercedes-Benz vehicle! Mercedes-Benz BlueTEC® technology has allowed this manufacturer's diesel vehicles to keep pace with their most fuel-efficient cars, so if you've been waiting to check out the lineup at Mercedes-Benz of Charleston, today's the perfect day to start exploring. Mercedes-Benz vans…

Whether you're off on an extended road trip or simply driving home to Huntington after a long work day, ATTENTION ASSIST® works to keep you safe. Learn how Mercedes-Benz ATTENTION ASSIST® works by reading on, and make sure to contact us today to schedule a test drive to experience all the Mercedes-Benz technology features for…